#1 in Malware Detection*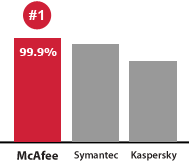 With thousands of new viruses created every day, relying on traditional security updates isn't enough anymore. That's why we added McAfee Active Protection™ technology.
Unlike the competition, this exclusive feature instantly analyzes and blocks new and emerging threats in milliseconds so there's no gap in your protection. It detects more threats to your PC than ever before.
*AV-Test.org malware detection results published in ComputerBild magazine (Issues 18-23, 08/17/09 - 10/26/09)
Faster than Ever
2009
2010Up to 8X faster

Subsequent Scan Time
McAfee 2009 vs. McAfee 2010 This year McAfee AntiVirus Plus 2010 has been completely re-engineered so it's faster than ever.

Enjoy faster updates and shorter scans. Your PC will run better too, thanks to fewer processes taking up memory. All of which means, AntiVirus Plus 2010 won't slow you down.
Easier to Use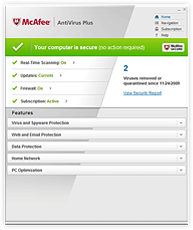 McAfee AntiVirus Plus 2010 is all about ease of use.
The completely redesigned Home Screen gives you all the information you need at a glance. And you're never more than one click away from it, which eliminates popup windows and makes for easier navigation.
Alerts and scan results have been refined too, making it easier than ever to protect your PC.
Faster PC performance**

Update Time Improved update time thanks to numerous performance enhancements.
Scan Time Rely on real time scanning to automatically protect you against threats to your PC. Subsequent full system scan speed is faster so you won't be slowed down.
Memory Utilization Reduced memory footprint means less impact on your day-to-day PC activity.
Installation Smaller download size enables you to quickly get up and running.


Simplified security management

Home Screen Completely re-designed to streamline your security experience. Easily check the status of your protection, monitor how many threats have been blocked, and manage your security—all from the Home Screen.
Idle Timer & Scheduler Reserve security scans and updates for when you are not using your PC, for less disruptions.
Alert System Re-configured to give you the most crucial product alerts. Alerts are less intrusive and easier to understand.

Better PC health

QuickClean Safely removes junk files that slow down your PC.
ShredderDigitally destroys no-longer-needed sensitive files to prevent anyone from accessing them.
Disk Defragmenter Get quick access to consolidate fragmented files and folders.

The McAfee Advantage

McAfee is the world's largest dedicated security company
30-Day free phone support and unlimited email and chat assistance
Continuous and automatic updates for your one-year subscription
Getting this Software for free?
1) Visit this promo page:
http://www.facebook.com/McAfee?v=app_216371893645
Make a facebook account if you don't have one
become a fan
You will get your subscription of 6 months instantly
Download antivirus from here
http://home.mcafee.com/Store/PackageDetail.aspx?pkgid=276